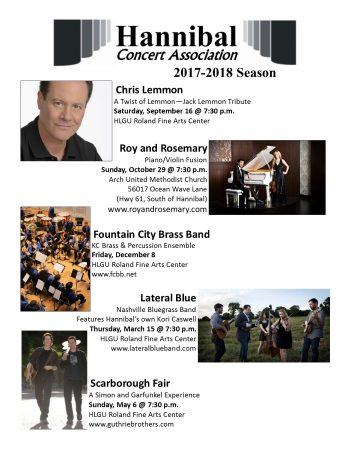 Want to purchase a season ticket?  Download and print a season brochure: HCA 2017-18 Season Brochure
The Hannibal Concert Association kicks off its 2017-2018 concert season on September 16.  HCA brings a variety of world-class performances to the Hannibal area and has been doing so since 1945. The upcoming season includes Jack Lemmon's son Chris, a violin and piano duo who met while accompanying the Canadian Tenors, a 30-piece brass and percussion ensemble, a Nashville bluegrass band with a Hannibal-native playing bass and a Simon and Garfunkel tribute duo.
 Chris Lemmon will kick off the concert season at 7:30 p.m. on Saturday, September 16 at the HLGU Roland Fine Arts Center. Lemmon shares stories, antidotes and songs which tells the story of a beloved Hollywood icon, his dad, Jack Lemmon. Chris tells Jack's story in his father's voice and chronicles his life from birth until his death in 2001 at the age of 76. Chris Lemmon is an actor, classically-trained pianist and author of "A Twist of Lemmon," on which this performance is based.
Roy and Rosemary bring their piano/violin fusion performance to Hannibal at 7:30 p.m. on Sunday, October 29 at Arch United Methodist Church, 56017 Ocean Wave Lane, south of Hannibal on Highway 61. From the stages of Carnegie Hall to Walt Disney World, pianist Roy Tan and violinist Rosemary Siemens have been capturing the hearts of audiences the world over with their fresh arrangements, musical versatility, soul-stirring passion, stellar musicianship and style. Roy & Rosemary met while accompanying the Canadian Tenors!    
Fountain City Brass Band is a 30-piece brass and percussion ensemble from Kansas City.  FCBB has won six U.S. Open Brass Band Championships, four North American Brass Band Championships and became the first American band ever, and the first non-UK band in over fifty years, to win a major brass band competition on UK soil at the Scottish Open Brass Band Championships. Their performance will be at 7:30 p.m. on Friday, December 8 at the HLGU Roland Fine Arts Center.
Lateral Blue, whose bassist is Hannibal-native Kori Caswell, is a five-piece bluegrass band based in Nashville, TN. They met at a bluegrass jam.  Each member comes from a different musical background and adds a unique point of view to the music. This group of young musicians incorporates styles of acoustic music into their repertoire which are adjacent to bluegrass, including western swing, jazz, and folk tunes.  Lateral Blue will perform at 7:30 p.m. on Thursday, March 15 at the HLGU Roland Fine Arts Center.
Finishing out the 2017-2018 HCA season at 7:30 p.m. on Sunday, May 6 are brothers Jeb & Jock Guthrie. Their performance is Scarborough Fair: A Simon and Garfunkel Experience.  The Guthrie Brothers sing and play guitar with a natural affinity for Simon & Garfunkel music, combining rich and smooth vocal blends, fine guitar work and great music. The duo playfully engages the audience with stories, trivia and humor.
Both season and single ticket sales will be available at the door prior to the concerts.  Single ticket sales are $20 for adults and $5 for students.  Season tickets (which include admission to all five performances) are available for individuals ($50) and couple/parents w/children ($100). Patron memberships are as available. Season ticket holders essentially pay only $10 per concert.  HCA season ticket holders also benefit from free/discounted admission to all performances of the Keokuk Concert Association and Quincy Civic Music Association.
For more information regarding the Hannibal Concert Association and its concert season, contact HCA board members Mike Marx at 217-242-2505 or Sara Anton North at 573-221-0822.  A season brochure with Season and Patron membership forms is available for download at hannibalarts.com.  Prior season and patron members will be mailed a season brochure with renewal information.