Theme Party Fundraiser
The theme party fundraiser is held each year to provide an opportunity for the community to show its appreciation and support of the valuable programming and services HAC brings to the community and have fun while supporting the arts.  A different theme is featured each year.  Past themes have included Aloha Hawaii, Low Country Boil, Speakeasy, Cabin Fever and Glitz.  The event features a social hour, sit down dinner and theme-related entertainment.  The event space is decorated to reflect the theme.
2017 Hannibal Arts Council Theme Party
A Fool's Paradise
MUSIC/ENTERTAINMENT: Chicago Vaudeville and Blues come to Hannibal! 
Sammy Tramp and Darling Violet. Sammy Tramp is a charming, lovable, scamp of a tramp, a throwback to the days of Chaplin and Keaton, and the good ol' days of Vaudeville and Music Hall. Sammy has headlined and entertained in burlesque festivals, vaudeville shows, street/music festivals, silent film events, concerts, and cabarets. Darling Violet is originally from Pennsylvania but now makes her home in Chicago, Illinois. A graduate of the New England Center for Circus Arts and member of the Kansas City Society of Burlesque, she now performs as a singer, dancer, aerialist, circus performer and burlesque dancer throughout the United States. Following the special performance by Sammy Tramp and Darling Violet will be local favorite, the Matt Roberts Blues Band. Matt Roberts Blues Band is a dynamic group of musicians who bring a whole new energy to the traditional sounds and vibes of blues music and entertain audiences with their raw energy and blistering rhythms.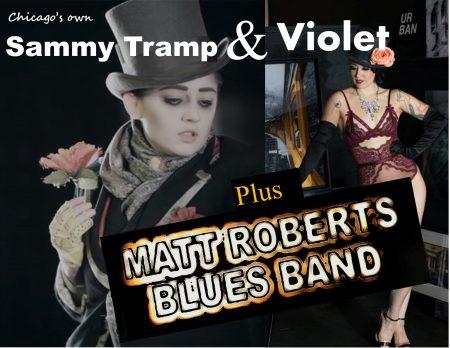 63401 Cinema Society
The 63401 Cinema Society is a new concept created to include films as part of HAC programming.  Created in partnership with Meredith Riggs, a 2016 graduate of HLGU, where she earned a Bachelor's degree in Media Communications. She grew up watching lots of old movies with her family and was reintroduced to her love of the classics in a high school film class in 2009. She aspires to make a career in film history and wants to share her love of classic film with others. Riggs believes that classic films should be introduced before they're screened, so that audiences can learn more about the history and background as it relates to what they will be watching.
For questions regarding The 63401 Cinema Society, contact Meredith Riggs at 573-822-8482 or meredith.a.riggs@gmail.com or HAC at 573-221-6545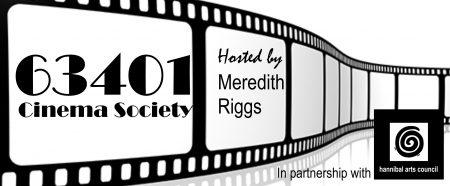 Art History Luncheon
The Hannibal Arts Council presents an Art History Luncheon once per year.  The Art History Luncheon is a special event designed to fit into a workday lunch hour and also take that time to educate, enrich and engage through focusing on one famous painter or painting from history. 
My Life. My Story.
My Life. My Story. is designed on the premise that everyone has a story.  Everyday people around us have had experiences in their lives who make them who they are today.  Through My Life. My Story. an audience will get a glimpse into the life, mind and spirit of local treasures.  The Hannibal Arts Council will pay particular attention to local visual artists, writers, singers, musicians and actors, but My Life. My Story. will not be limited to just those who are involved in the arts. 
Share the Joy Fundraiser
Share the Joy combines two great things, food and art.  Each December the Hannibal Arts Council hosts a soup and dessert fundraiser during the holidays.  The event will include homemade soups, breads and desserts followed by special holiday performances.