Hannibal Arts Council Gallery
Give yourself a special treat and stop by the Hannibal Arts Council Gallery - monthly exhibits spotlight local and regional artists. Works on exhibit and for sale! Opening Receptions for each exhibit allow you to meet the artists, enjoy refreshments and connect with friends.
Gallery Hours
Monday: 9-5
Tuesday: Closed
Wednesday: 9-5
Thursday: 9-5
Friday: 9-5
Saturday: 11-2
Sunday: Closed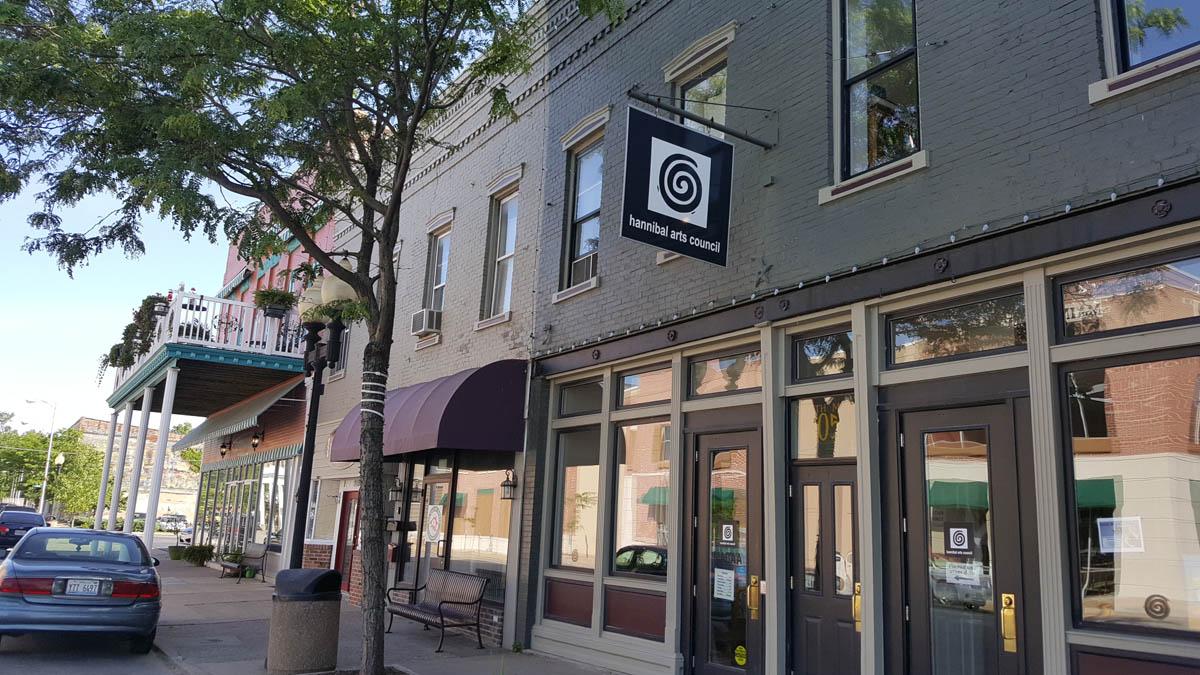 CURRENTLY IN THE GALLERY
LESTER GABA (1907-1987): The Collection of Nora Creason & Don Metcalf (Bicentennial Series)
WATER DROPS:  Macro Liquid Art Photography by Donnie Dryden
COFFEE INFUSION:  Watercolor/Coffee stained paintings by Christy Stark
LAYERS:  Sculpture by Weston G. David
BEST OF MISSOURI HANDS ON THE ROAD: Alcohol Ink Jewelry and Paintings by Nancy Koehler
PHOTOGRAPHY CHANNEL: Clouds
FEATURED PHOTOGRAPHERS:  Laura Good Buffalo and James Hubbard
The March exhibits at the Hannibal Arts Council pack in a lot of media, including coffee-stained paintings, jewelry in vibrant alcohol inks, macro photography, paintings by a famous Hannibal-born artist, sculptures by a recent college graduate and digital images by photographers near and far. The HAC Galleries are located at 105 S. Main St. in Downtown Hannibal.
Nora Creason and Don Metcalf have loaned HAC their collected paintings by Lester Gaba (1907-1987), a Hannibal-born sculptor, writer and retail display designer. This exhibit is part of an ongoing Bicentennial Series in the HAC galleries. Gaba has an interesting history, including his publications on techniques of soap carving in cooperation with the National Soap Sculpture Committee and his most famous companion, Cynthia, a mannequin designed for Saks Fifth Avenue who was once featured in a Life Magazine photo shoot.
Other featured exhibits include Springfield IL artist Christy Stark's works created using coffee stains and watercolor, Hannibal photographer Donnie Dryden's macro liquid art images, Best of Missouri Hands On the Road feature exhibit of Glencoe artist Nancy Koehler's alcohol ink creations in jewelry and on paper and sculptures by recent University of Central Missouri graduate and Hannibal native Weston G. David. The Photography Channel, featuring digital photography exhibits shown on a 55" television, brings to life submitted images of clouds. A new addition to the Photography Channel in 2019 is Featured Photographers, which will feature Laura Good Buffalo and James Hubbard during the March 2-23 exhibits.
HAC gallery hours are 9:00 a.m. to 5:00 p.m. Monday and Wednesday through Friday and 11:00 a.m. to 2:00 p.m. Saturdays. The HAC gallery is closed on Tuesdays and Sundays. For more information on the current exhibit and other HAC programs contact the Hannibal Arts Council at findit@hannibalarts.com, 573-221-6545 or visit them on the web at hannibalarts.com.