2020 Gallery Schedule
August 15 – September 12 - In the Gallery and Online @ main Gallery page!
URBAN FLAIR: Acrylic paintings by James Zimmerman 
NESTING: Mixed media/Paintings by Mary Jo Kattelman
UP A RIVER: Handmade canoe paddles by Ryan Tonnies
OPEN SHOW: Holy Cow!
PHOTOGRAPHY CHANNEL: Down on the Farm
BEST OF MISSOURI HANDS ON THE ROAD:  Featured photography by Kim Carr 
Sponsored by Hannibal Art Club, Rita Plowman, Michael Gaines and the Missouri Arts Council, a state agency.
September 12 - Second Saturday Open House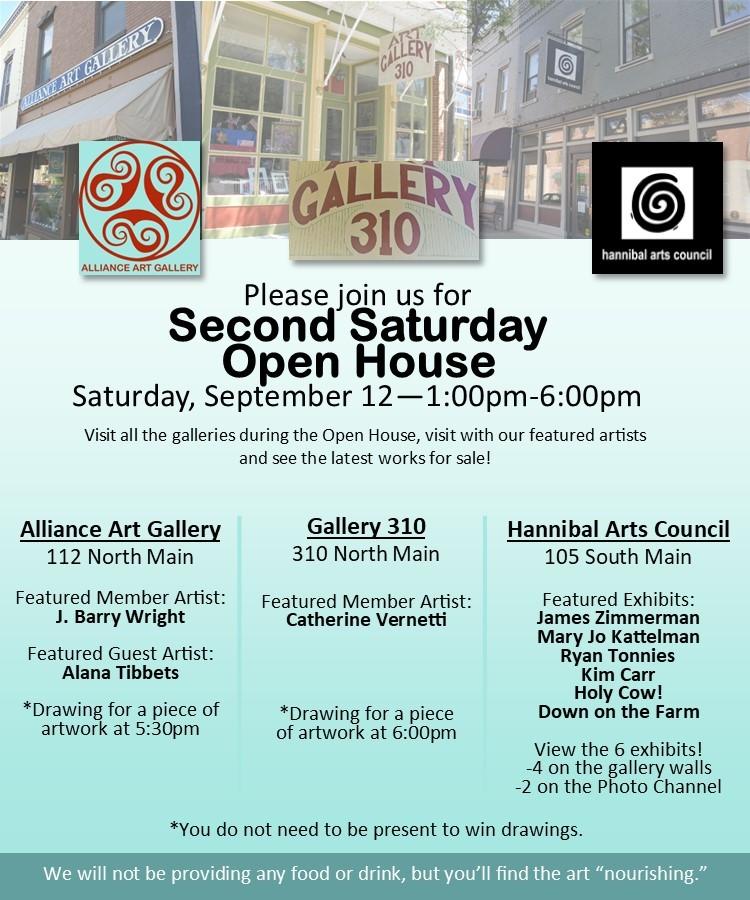 September 26 – October 31
ORiGINALE: Hannibal Art Club's 56th Annual Area Artist Exhibit & Competition is an open exhibit and competition featuring artwork by artists living within a 50-mile radius of Hannibal. Features the Best of the Best in area artists' work. 
*To learn about submitting pieces for ORiGINALE, click the link ORiGINALE Call to Artists
NEW - Awards - Awards will be posted on the Hannibal Art Club Facebook page at 7pm on Friday, September 25
NEW - Opening Day - Saturday, September 26, 11am-2pm
November 14 - December 19
HOLIDAY MARKETPLACE: (formerly $99 bucks...or less Art Sale): Annual Art Sale featuring  creative, unique, one-of-a-kind art as holiday gifts…or for yourself.  2020 Participating Artists: Martha Adrian, Victoria Alewell, Steve Ayers, Cara Bowman, Kim Caisse, Shelley Campbell, Michael Chlebanowski, Micheal Cole, Ezra Collins, Todd Damotte, Bella Erakko, Brenda Beck Fisher, Jamie Green, Matthew Hemminghaus, Milly Johnson, Pat Kerns, Roger McGregor, Mary Phillips, Mary Turner

Special Opening Day Event: Saturday, November 14, 1pm-6pm