Open Shows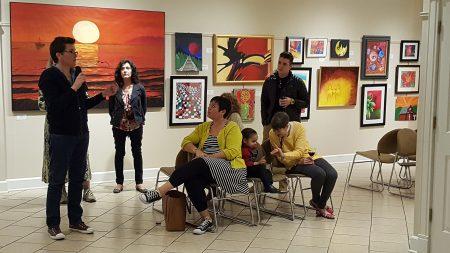 What are Open Shows?  Open shows at the Hannibal Arts Council encourage artists to submit pieces to be exhibited in our gallery shows which fit a theme or specific guidelines.  Submissions are welcome from youth 13-17 (except ORiGINALE) and adults 18 and older residing within a 50-mile radius of Hannibal. Open to professional and amateur/non-professional artists.
2020 Open Shows
August 15-September 12
HOLY COW!
The Hannibal Arts Council is looking for art submissions featuring our bovine friends. Use your imagination to create a new piece of art or submit a piece you already have which predominantly features anything cow-related – cows (obviously), milk, the milkman, cheese, etc. We are looking for paintings, photographs, sculptures, mixed media…any media. Just make it fit the theme!
Artwork Submissions Accepted: Monday, August 10 or Wednesday, August 12, 9am-5pm
Detailed Information/Registration Form/Artwork Labels: Holy Cow Call to Artists
September 25-October 31
56th Annual ORiGINALE: Hannibal Art Club Exhibit & Competition
Features the best of the best of original artwork from area artists. Over $2000 in prizes!  
Artwork Submission Accepted:  Friday, September 18 from 3-6pm or Saturday, September 19 from 11am-2pm
Detailed Information/Registration Form/Artwork Labels: ORiGINALE Call to Artists
November 6 
SUBMISSION DEADLINE: ART IN THE OPEN BILLBOARD CONTEST
Detailed Submission Information: Call for Entries Art in the Open
Photography Channel

What is the Photography Channel?   The Photography Channel features digital image exhibits viewed on the Hannibal Arts Council's 55-inch 3-D television and compliment the exhibits hanging on the gallery walls.  There is no age limit and submissions may come from anywhere in the world! Digital and cell phone camera, Instagram and Facebook images are all acceptable formats to submit.
2020 Photography Channel Themes
August 15-September 12
DOWN ON THE FARM
Submitted digital images (up to 5) should feature shots of life on the farm—animals, families, barns and farm buildings, produce, harvesting, fields, machinery, farm activities, etc.
Photo Submission Deadline: Wednesday, August 12
Detailed Information: Down on the Farm Photo Request
Art For The Health Of It
What is the Art For The Health Of It?  Art For The Health Of It was created as a year-round partnership between the Hannibal Arts Council and Hannibal Clinic.  The space acts as a satellite gallery for the Hannibal Arts Council. The exhibit series features works by local and area artists and may be viewed in the Clinic's west entrance reception/waiting area. If an area artist is interested in exhibiting through Art For The Health Of It, contact the HAC office at 573-221-6545 or findit@hannibalarts.com.
Past exhibits!