2020 River Bluffs Paint Out
Friday, May 1 -  John Fennell "Color & Composition in Plein Air" Workshop
Saturday, May 2 - Paint Out in Canton, MO
Sunday, May 3 - Paint Out in Hannibal, MO
The communities of Canton and Hannibal are situated along the banks of the Mississippi River and offer a wide variety of plein air locations to capture the river, quaint downtown locales, natural beauty and architecture. River Bluffs Paint Out attracts regional artists, as well as artists from across the Midwest.  Plein air artists of any age are eligible to participate. Artwork must be done outdoors, en plein air, during the event. All paint and drawing mediums are accepted. There are no size limits on canvas and paper. Artists will work on site within a designated area determined by each city.  Artists must work on public property or on private property with landowner's permission.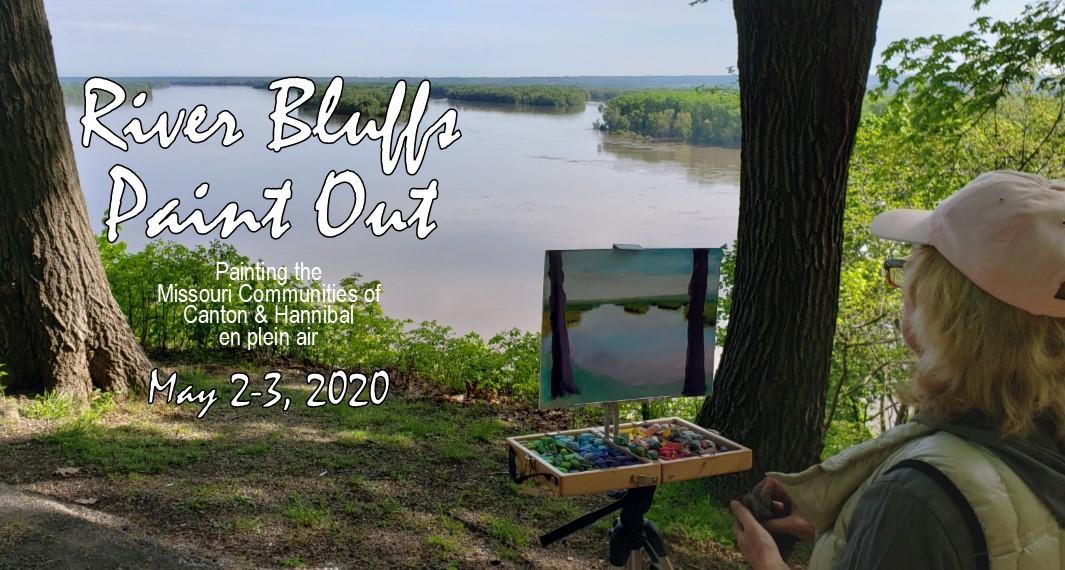 Register / Pay by Mail
Click below to download and print our mail-in registration.
Daily Plein Air Check-In - 7am-9am
Artists will need to check-in each day, 7:00 - 9:00 am, at the specified locations listed below. Artists are not required to participate each day. Each day, canvases and/or paper must be stamped at check-in locations with the current day's stamp. Stamp must be visible at judging or access provided if asked by judge. Daily complimentary artist packets that include daily instructions, maps of suggested site locations and other goodies will be provided. Those that do not pre-register are not guaranteed an artist packet. Pastries and coffee will be provided at each check-in location in the morning. Check-in locations will remain open and have water, restrooms, and tables for artwork presentation preparation 7:00 am - 4:00 pm.
Check-In Locations
Saturday, May 2: 4th Street Warehouse, 112 N. 4th Street, Canton, MO
Sunday, May 3: Hannibal Arts Council, 105 South Main Street, Hannibal, MO
Exhibition and Competition
Each evening, up to two artworks completed earlier that day may be turned in for judging. Only works hand-delivered to the specific day's above locations by 4:00 pm will be displayed and eligible for judging. Artists are encouraged to drop off artwork anytime before 4:00 pm to help expedite the exhibit installation. All canvases must have screw eyes and picture wire for hanging. All art done on paper should be protected under plexi/glass and either framed or mounted, with picture wire for hanging. No sawtooth hangers. Each exhibit location reserves the right to install works in any manner deemed necessary for exhibition or security reasons. Although the utmost care will be taken in the handling of works, each exhibit location assumes no responsibility for loss or damage to any artwork. Due to the wide variety of visitors at each exhibit location, all artwork must be appropriate for viewing by all ages. Each exhibit location reserves the right to refuse any work that may be considered potentially offensive.
Exhibition/Reception Locations - 5pm-6:30pm
Saturday, May 2: 4th Street Patio (across from 4th Street Warehouse, 112 N. 4th Street), Canton, MO
Sunday, May 3: Hannibal Arts Council, 105 South Main Street, Hannibal, MO
Judging
A visual art professional, with expertise in plein air, selects the awards. Judging will take place daily, 4-5 p.m.
Daily Awards for Canton and Hannibal
$500 Best of Show
$300 Second Place
$200 Third Place
Honorable Mentions
Sales
A sales commission of 10% will be charged by each host site for sales made. Sales to the public will be encouraged and each artist will conduct their own sales. Artists are encouraged to bring their business cards. If credit card purchases have to be arranged through host site, a minimal fee will be charged in addition to any sales commission.
Plein Air Workshop - John Fennell: "Color & Composition in Plein Air Painting"
Workshop will be held from 9:00 a.m.-3:00 p.m. on Friday, May 1 on the Culver-Stockton College Campus in Canton, MO. Fennel will share his expertise as a painter of 35 years and discuss the benefits and limitations of each media for plein air painting, present a demo, have everyone paint and offer a critique. Number of students limited to 15. $50 per person.
About John Fennell: After graduating from Northern Illinois University, the Chicago native attended the American Academy of Art in Chicago and then studied privately with artists Milford Zornes, Rex Bradt and Gianni Cilfoni. He later earned a master's degree in painting and drawing from the University of Wisconsin-Milwaukee. He has exhibited in Chicago and Milwaukee, as well as in St. Louis, Fulton and Columbia, Missouri. He recently retired as a professor at the Missouri School of Journalism where he taught magazine writing, magazine publishing and design for the past 13 years. On plein air painting: "Light in all of its manifestations has been my primary interest in the ongoing work displayed here: landscapes, cityscapes and geometric abstractions. To me, light is the foundation of seeing and a metaphor for knowing." https://www.johnfennellart.com/
For further information contact:
Hannibal Arts Council, Hannibal, 573-221-6545, findit@hannibalarts.com
Sharon Upchurch, Canton, 573-231-6149, supchurch@culver.edu
Register / Pay by Mail
Click below to download and print our mail-in registration.