Area artists will offer works for sale during the Hannibal Arts Council's Holiday Marketplace, its annual art sale, beginning from 1:00-6:00 p.m. on November 14. The HAC gallery will be set up with a gift shop atmosphere for holiday shopping that is easy on the wallet.
The annual art sale is an opportunity to support local artists and artisans by purchasing unique, one-of-a-kind holiday gifts. A wide variety of art will be available, including paintings, prints, jewelry, bath and body products. pottery, ornaments, cards, wood items and fabric items – from fine craft to fine art.
Works by the following area artists and artisans will be for sale:  Martha Adrian, Victoria Alewell, Steve Ayers, Cara Bowman, Kim Caisse, Michael Chlebanowski, Micheal Cole, Ezra Collins, Todd Damotte, Bella Erakko, Brenda Beck Fisher, Jamie Green, Matthew Hemminghaus, Pat Kerns, Roger McGregor, Mary Phillips, Mary Turner.
The art sale will be on display at the Hannibal Arts Council through December 19.
Following the opening day, HAC gallery hours are 9:00 a.m. to 5:00 p.m. Mon, Wed-Fri and 11:00 a.m. to 2:00 p.m. Sat. The HAC gallery is closed on Tues and Sun.  HAC is located at 105 S. Main St. in Downtown Hannibal.
The art sale is sponsored by F&M Bank and Trust, Hannibal Machine, LaBinnah Bistro and the Missouri Arts Council.  For more information on the current exhibit and other Hannibal Arts Council programs contact HAC at findit@hannibalarts.com, 573-221-6545 or visit them on the web at hannibalarts.com.
Click the image below to view works by our featured artists!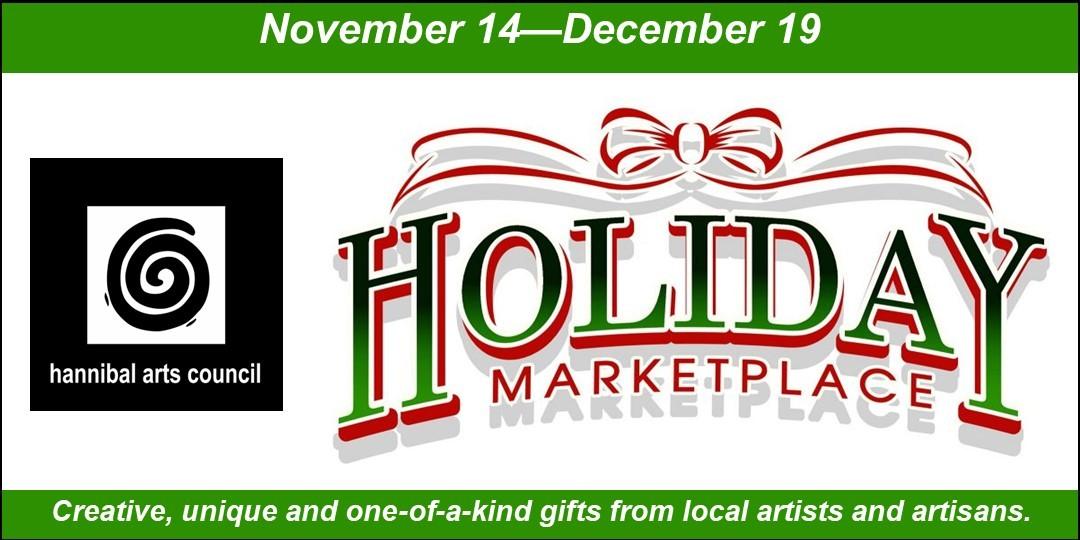 And…a reminder of some special dates!